Cooking for PM Modi and 42 First Ladies of Africa – Kunal Kapur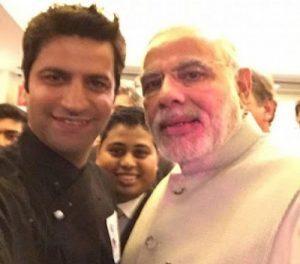 India has a vast repertoire of extraordinary traditional cuisines. Not only do I have deep love and respect for regional, authentic, simple ghar ka khaana but also for meals prepared with fresh and local ingredients be it at home, restaurant or the streets.
We don't eat tandoori chicken or butter chicken at home every other day, do we? Keeping that very simple truth in mind I created a spread for the NASSCOM lunch hosted by Modi Ji and for Indo-African summit lunch with the First Ladies of the African continent, without any 'fusion' and just the way I like it – true, simple yet real tasty.
Without compromising on the flavours or the ingredients, the only factor that I toned down were the spices so that it's not too hot for their palate. The idea was for everyone to experience the essence of our cuisine as it is served at most homes with a hint of restaurant and street food
The food served at most Indian homes is Satvik in preparation – maybe not technically – but in its essence of simplicity and freshness.
I can't emphasize the importance of sticking to our roots when it comes to food, something I covered even in my previous Navratri article. And in that regard, we all have something to learn from one of the best known chefs, Jamie Oliver, his recipes always use fresh, seasonal and organic ingredients with focus on home-style cooking and nutrition.
For the PM's luncheon, the menu was satvik as Modi Ji swears by it. I'm also a believer of sourcing fresh ingredients locally as much as possible and since the event was at Bengaluru, I stuck to South Indian menu keeping it light and wholesome. Some of the dishes we served included 'Sambharam' which is a spiced buttermilk flavored with lemongrass, Murungaelai Adai (Drumstick leaf pancake) and Vazhapoo Vada (Banana blossom fitters).
I also served Modi Ji's favourite pickle Chundo from Gujarat and a Green Chilly and Lemon homemade pickle. It has been one of the best moments of my life to cook for him as well other dignitaries from around the world. And what made my day was when they asked for repeats!
I had a lot of fun crafting the menu for the Indo –African lunch as well, with a little bit of help from everyone on
facebook and twitter. We served golgappas with a pomegranate and juice, karwari jhingha dal tadka, ajwain ke paranthe (yes the way mom makes it at home), dum ki biryani, paneer pasanda (complete menu is attached in the pics) and ghewar. The entire team was enthusiastically involved from the start.
Even though I have cooked for foreign dignitaries many times before but the cooking session that I conducted for these wonderful women was something new. It was incredible to see the excitement, the buzz and overall curiosity as I spoke about what I'm extremely passionate about. And not only that, they were sporty enough to come and try their hand at making rotis. But the highlight was when one of the guests got up to say that it was clearly the "dal tadka" which was the most sumptuous of all. She had no clue about what Indian food is yet it was the simplest dish which touched her heart, reinstating my belief that nothing compares to simple home cooked food.