Difference between Pulao & Biryani & Tahri
Pulao v/s Biryani v/s Tahri

Origins of Biryani and Pulao
One of the common notions is that the Pulao or Pulav is an Indian dish. There could be a similar dish existing in India at the time but we cannot say for sure it was called pulao or something similar.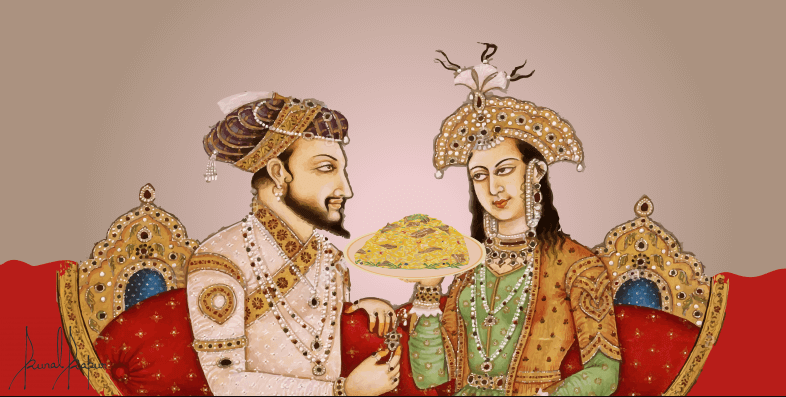 But some records suggest that Pulao first originated in central Asia most probably with Abbasid Caliphate which is modern day Baghdad. From here it spread to as far as India to Europe, africas, latin America, the Middle East and more. Whereas a Biryani originated in India and spread to the rest of the world in its original form and it's variations. And each region with the available ingredients and rice quality made a different version of the biryani.
Certain Similarities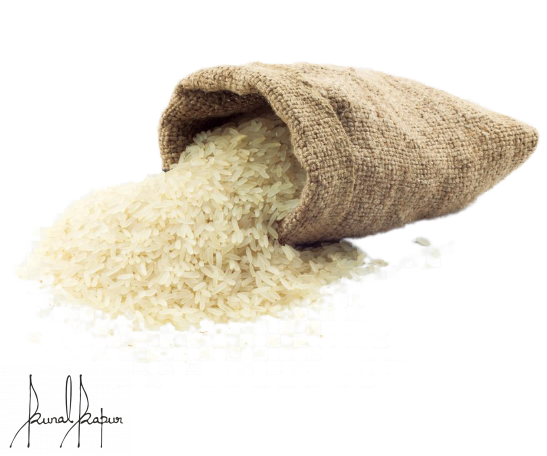 Both pulao and biryani are rice dishes.
Both pulao and biryani are best cooked on dum (sealing the vessel and applying heat from top & bottom).
Both pulao and biryani were originally always made with meat.
Veg versions exist today for both pulao and biryani.
Over several years people and communities have added different ingredients to both pulao and biryani which has led to a constant evolution for both. At times it may seem confusing as both biryani and pulao seem to overlap each other.
Let's start from the start and understand what pulao and biryani originally meant. And before we start let me tell you whether pulao or biryani, both of them were originally made with meat and never veggies alone.
What is Pulao?
Pulao is a dish where rice and meat are cooked together. Meat is boiled or stewed (never fried or cooked straight in fat) along with spices, condiments, fat etc and soaked rice is added. As the dish cooks covered on slow heat, the meat gets tender and rice absorbs the flavours of the meat.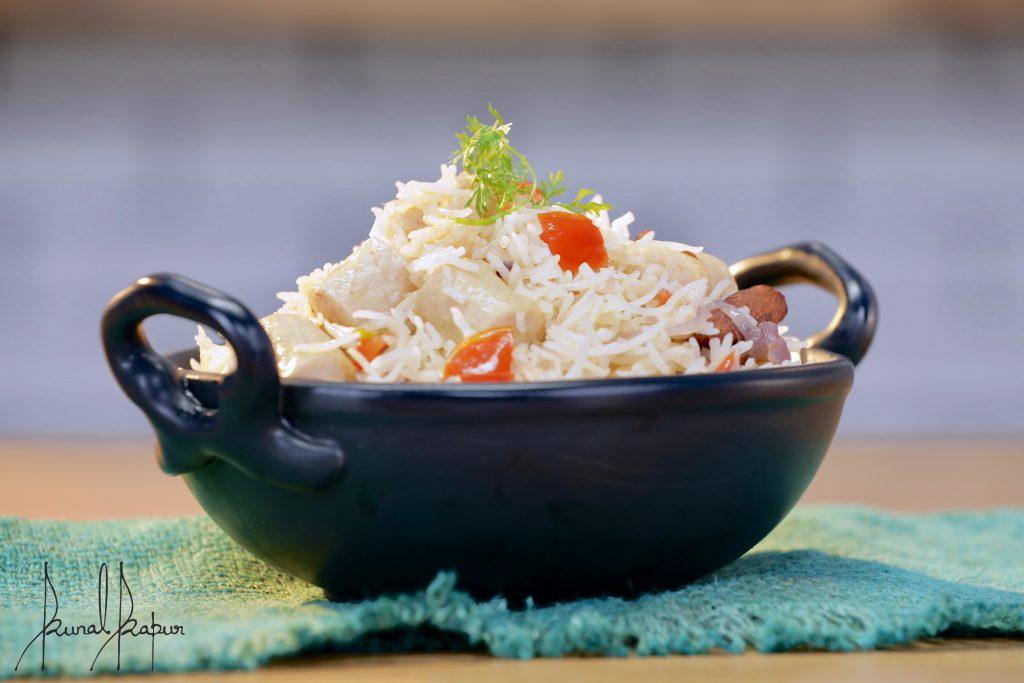 Yakhni pulao or Akhni Pulao is the most common & best example of a classic Pulao. But when pulao travelled into India through Islamic conquests the recipe for this preparation changed.
What is Biryani? What does the word Biryani mean?
Biryani comes from the word "Biriyan Kardaan" which means to fry/cook or as we say in hindi "khane ko bhun-na". Where meats were cooked/stir fried in fat along with spices and other ingredients before adding rice. As large quantities of rice & meats were to be cooked hence layering of meat & rice started in Biryani, which has become one of the identifying elements of a biryani.
As the cuisine progressed and flourished there came several versions of both biryani and pulao. Some added curd, some added potatoes, some used basmati rice, some started using parboiled rice and so on and so forth. Also some cooked kachi dum biryani while some cooked pakke gosht ki biryani.
As the seat of power for any invader was Delhi, it would be quite right to say that the area in and around Delhi is where biryani went to its epitome and from here it flourished and went on to different states where it took its own twists and turns.
So it would be correct to say, as we advance through time we have created veg pulao and veg biryani, both of which were unheard of in the past.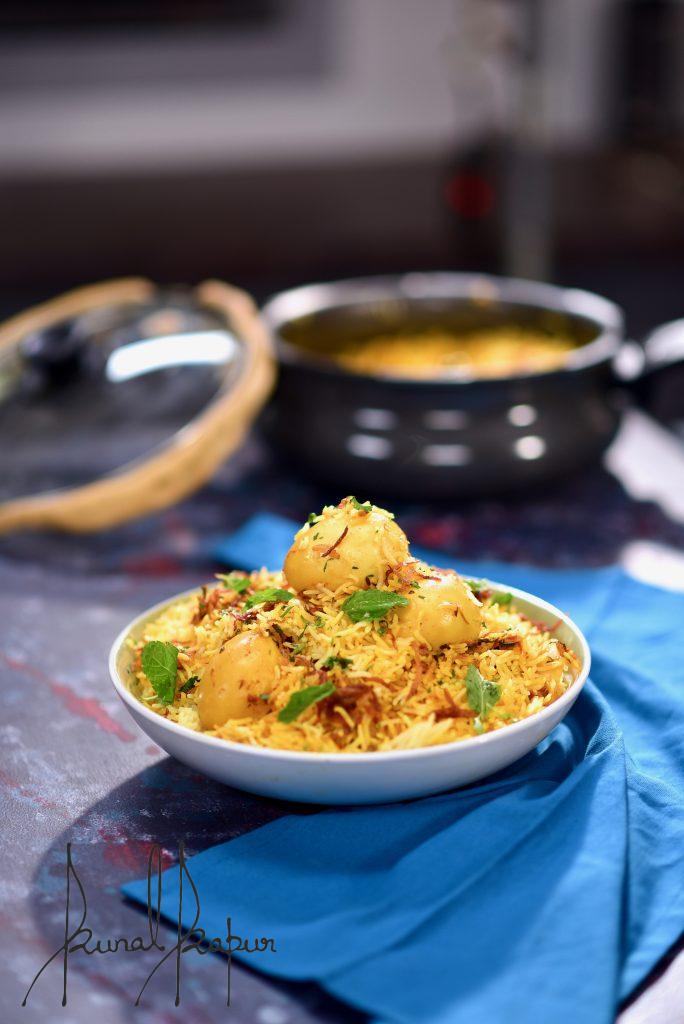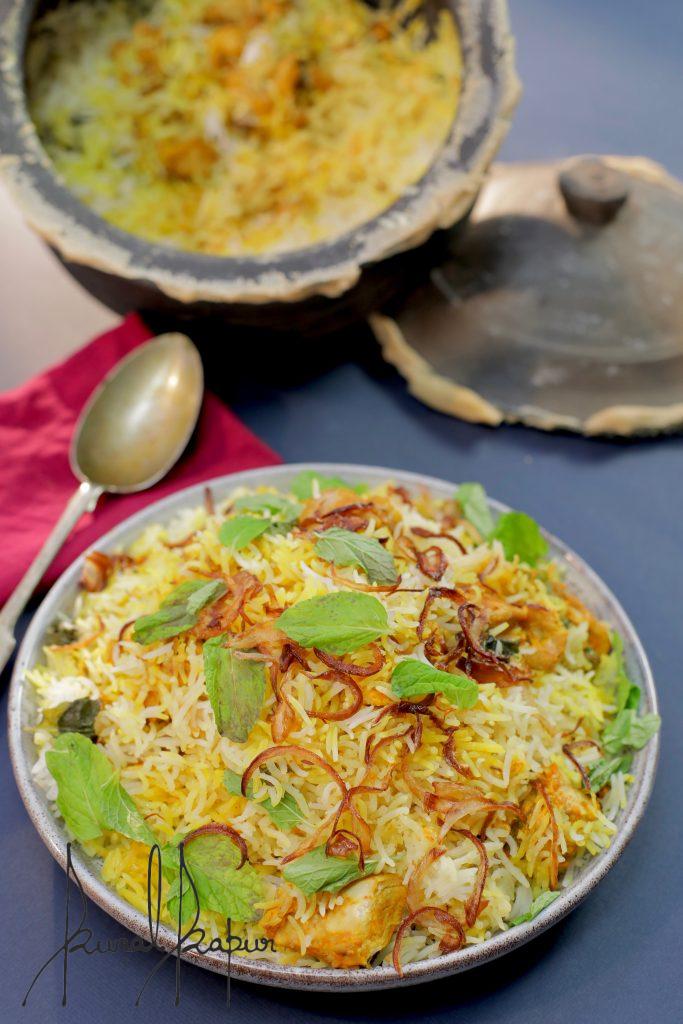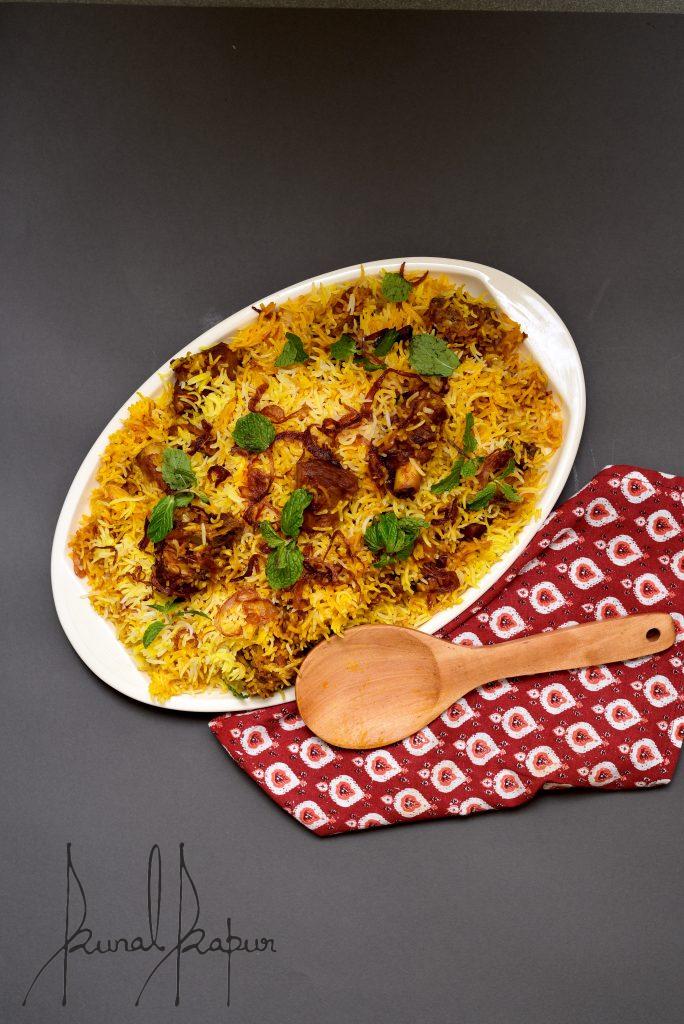 To sum it up the basic difference between a biryani and pulao is that for biryani you have to "Biriyan" aka fry the meat (though a variation, Hyderabadi Kacche Gosht ki Biryani Exists) and add whole and powdered spices and condiments to the meat & rice while cooking, whereas for a pulao meat is not fried rather stewed (though some versions now fry the meat and then make a pulao, also several veg varieties exists) and usually certain fragrant spices are sparingly used to make a pulao (though now a days heavily spiced pulaos are also popular)
The fight between Awadhi Biryani and Hyderabadi Kacche Gosht ki Biryani – Which is better?
In India each state claims to do a better Biryani than the other. And these harmless fights are not just between Hyderabad and Lucknow but with every community that prepares it, in its own unique way. Such fights are always welcomed with a smile and longer discussions. In the end biryani wins no matter which.
Awadhi Biryani
Is Awadhi Biryani or Lucknowi Biryani a Pulao?
Though both the styles of biryani whether Hyderabadi or Awadhi are inspired by the traditional way of cooking a yakhni pulao, the Awadhi Biryani is closer to what a yakhni pulao is.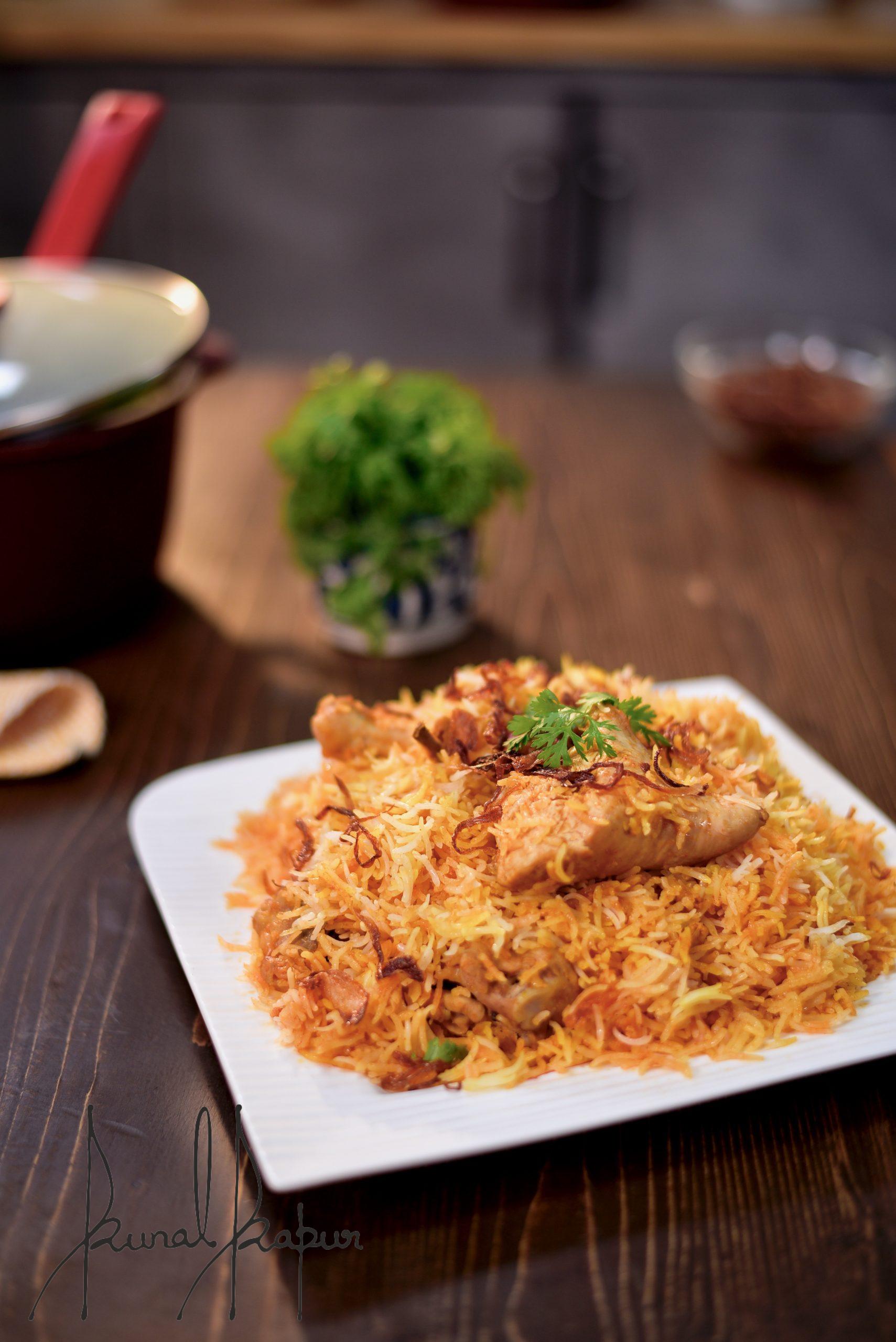 In preparing lucknowi style of biryani the meat is stewed with spices, browned onion, curd and then mixed with rice. As the meat is almost cooked the layering with rice happens. As the meat is not fried in any fat the purists of lucknow call it Awadhi Pulao and not Biryani. But what is noteworthy is that this style of cooking takes inspiration from both pulao and biryani..
Hyderabadi Biryani
Whereas Hyderabadi takes on the biryani in a new way where the raw mutton is marinated and placed in the deg and blanched rice is put on top and cooked on dum. The art of preparing raw meat and raw rice together makes it very intriguing. Hyderabadis love kucche (raw) gosht ki biryani and for them no other biryani comes close to what they have.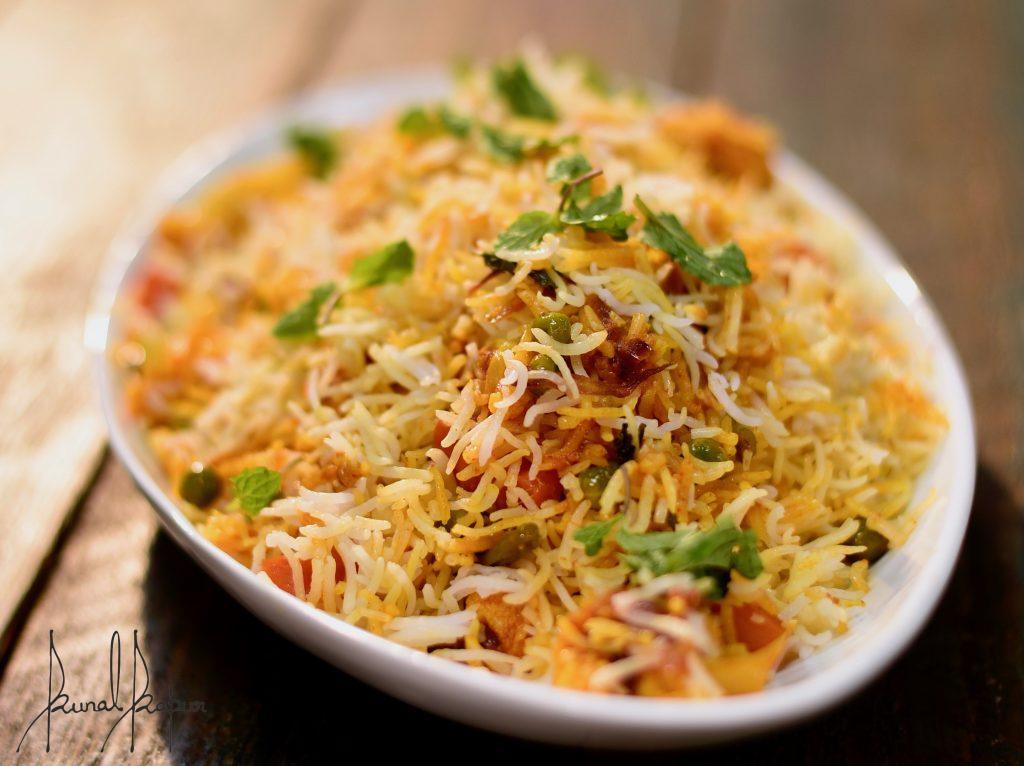 In Hyderabad Pakke (cooked) gosht ki biryani is also prepared and in some parts there is a unique Andhra influence on it.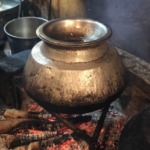 What is a Deg or Degchi?
A deg is a traditional round vessel used for cooking biryani. It has a wide center and a smaller mouth with a tiny neck and always with a lid. It resembles a cauldron and was used to cook curries as well as rice.
What is a Tahri or Tahiri or Tehari?
A tahiri or tehri is a classic vegetarian rice dish very popular from Uttar Pradesh state of India. It is a vegetarian rice preparation that has similar spices to what goes in a biryani and if often confused with a pulao. The veggies are half cooked with whole and powdered spices along with curd and fried onions. Soaked raw rice is added and mixed in with water and together are cooked over dum. This gives a rather spicier veg version of a awadhi style biryani. But if you look closely a tehri is uses both methods used for making a biryani and a pulao. The "bhun-na" of vegetables with use of fragrant spices is probably inspired by biryani cooking and cooking rice and veggies mixed together without layering is some what inspired by a pulao. Some of the popular tahri are Aloo ki Tahri, Veg Tahri etc, though over a period of time non vegetarian tahiri is also very popular esp the ones using mutton – Gosht ki Tahri and Chicken – Murg Tahri.
Origins of Tahri
Tahri may have been started by the vegetarian hindu community who probably were inspired by the style of making biryani, where meat was replaced with seasonal vegetables. Tahri or Tahiri was extremely popular in the Awadh region but is savoured and prepared by all. Though the pulaos came to India through Islamic conquests and consecutively biryani was born, we often forget that India was always a land of plenty and rice was a staple. It is highly likely that before the pulao came to Indian sub continent there were dishes prepared with rice across India which could have been similar to a pulao. Maybe just maybe a tehri may be one of the original preparations of the Indian subcontinent.
Types of Biryani in India
Calcutta Biryani or Kolkatta Biryani
Malabar Biryani or Thalassery Biryani
Bombay Biryani
Sindhi Biryani
Kalyani Biryani
Dindigul Biryani
Ambur Biryani
Bohri Biryani
Kutchi Biryani
Memoni biryani
Konkani Biryani
Bhatkali Biryani
Beary Biryani